HMS Mary is not officially listed as a Protected Wreck but we would like to include her here as historically she was a significant ship that is thought to share the protected area belonging to HMS Restoration.
 Historical background
The Mary was built at Woolwich by Christopher Pett of the famous shipbuilding family and launched as the Speaker in 1650.  As the Speaker she was a 50 gun third-class frigate weighing 727 tons.  At 116 ft long and 34 ft 4 in wide she was found to be too narrow, so was later widened to become 36ft 8 in and her armament was increased to 62 guns, a design which made so her so successful it was subsequently used by the Admiralty for all third-class frigates.
After the restoration of Charles II as King in 1660, the Speaker was renamed Mary.  She served with distinction as the flagship of William Penn, father of the founder of Pennsylvania and Rear Admiral Sir Basil Beaumont, engaging in 14 major battles over the course of half a century; more than any other Royal Navy vessel to date.
Whilst lying at anchor in Holland in April 1660, the famous diarist Samuel Pepys visited Mary, lnoting that she was 'a very brave ship'.
The Shipwreck
Moored in The Downs with the rest of the fleet, Mary was the first ship to be driven onto the Goodwin Sands on the night of the Great Storm in 1703.  She went down with all hands, bar one, including Rear Admiral Sir Basil Beaumont, who with his crew had climbed into the masts to try and save themselves.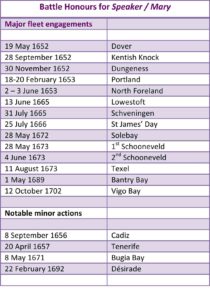 Apart from the Captain and Purser who were ashore that night, the sole survivor was a Thomas Atkins, who managed to scramble aboard the Stirling Castle from where he was subsequently swept overboard.  He was luckily rescued from the sea by Deal boatmen, earning himself the dubious distinction of being shipwrecked twice in one night.
Archaeological interest
It is believed that the remains of the Mary lie underneath what is known as the South Mound, one of two mounds situated close to each other on the western edge of the Goodwin Sands.  The North mound covers the wreck of HMS Restoration that was wrecked on the same night.
Mary's presence was detected by her licencee, diver Dr Doug McElvogue, who identified a cannon as belonging to her rather than the Restoration.
She was the first of the new design of 'great frigates', representing the earliest of the three decker third-rate gunships that came to dominate naval battles in the following centuries.